Donna Young and Charlie Healey of Tighean Innse Gall explain how their organization utilizes the EnergyMeasures project to tackle energy poverty in Scotlands most remote islands. More than half of the 14 inhabited islands on the far west of Scotland, with their many rural townships on the Atlantic coast, spend more than 10 % on heating. Over 3000 km sq of islands separated by sea means costs of everything are higher, fuel included. And: Weather is a major factor. 80 kph winds are common in the winter. The questions in this short interview were asked by Oikoplus.
How prevalent is energy poverty in the Outer Hebrides and in what ways does it affect households?

Official Scottish government stats, under the terms of the new definition show fuel poverty in the Outer Hebrides at 36 %. The latest figures from Scottish House condition survey however show remote rural fuel poverty at 43%. The likelihood is the Outer Hebrides sits at the higher end of this figure.

What is the role of TIG generally and in relation to EnergyPoverty?

TIG has a wide ranging role in tackling energy poverty, from provision of energy advice, installing energy efficiency measures on behalf of the local authority and Scottish Government and most recently through the provision of the EnergyMEASURES project.

What will TIG do as part of EnergyMeasures?

TIG will market to and sign up fuel poor households in remote rural communities, conduct surveys, develop a bespoke energy plan with the householders, identify small measures to provide immediate small measures and advice for energy reduction. This will then lead into larger, structural energy efficiency measures such as internal or external wall insulation.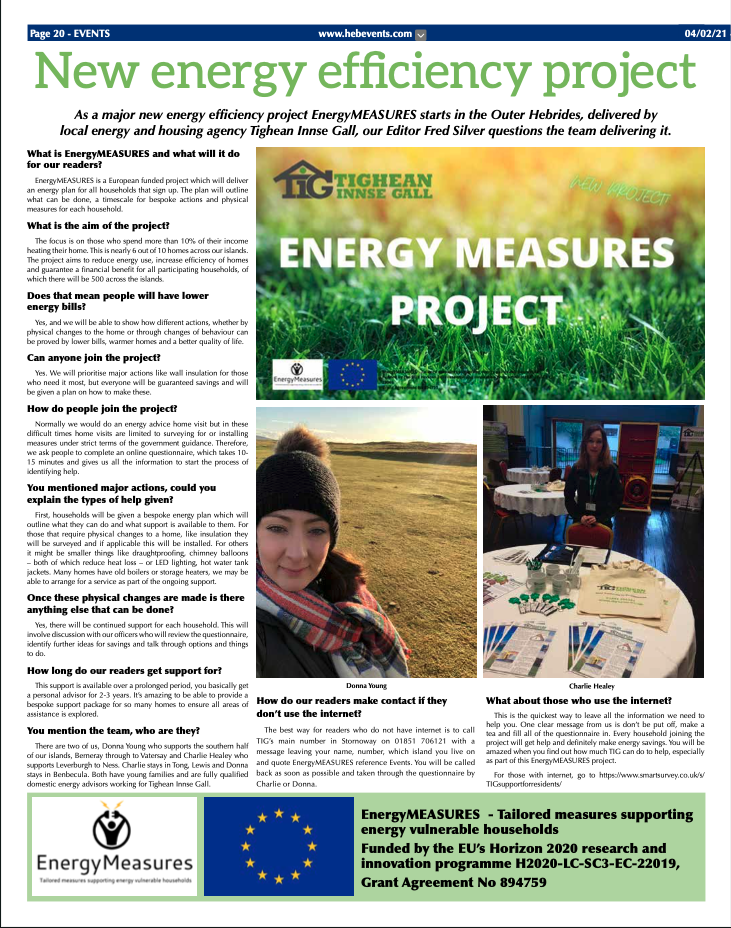 How do you estimate the interest of affected households to participate in the project?

We market our project, recruit households and conduct a smart survey to identify successful candidate households. We review numbers of views of social media, record numbers of enquiries and ultimately the completed smart surveys.
Where do you anticipate difficulties in relation to the implementation of the project?

COVID-19 has delayed our ability to carry out home visits, organise events in the community and the installation of measures. We have to rely on phone calls, email and zoom to communicate. Overall, we may find that demand outstrips capacity to support the numbers of households actually in fuel poverty.
What has been done so far and how has the project been received by the public so far?

We have recruited 100 (20 % of the total project) households in the first 6 weeks of activities. The response has been excellent considering we are still in a COVID-19 lockdown. The households we have spoken to so far have been happy with our responses and the actions we have planned to be able to help them. We have conducted a wide range of marketing activities, in printed media, social media and taken referrals from partner agencies.
EnergyMeasures is only at the beginning. What would you rate as a success of the project when in terminates?

We believe that the project success will be measured against the following outputs; number of households recruited, retained in the project, measures installed, energy reductions and potential financial savings. The outcomes will be more money in households, warmer homes, greater energy efficiency and reduction in emissions. Not only do we anticipate to recruit and retain 500 households, but we hope that the success of the project will continue far beyond this.